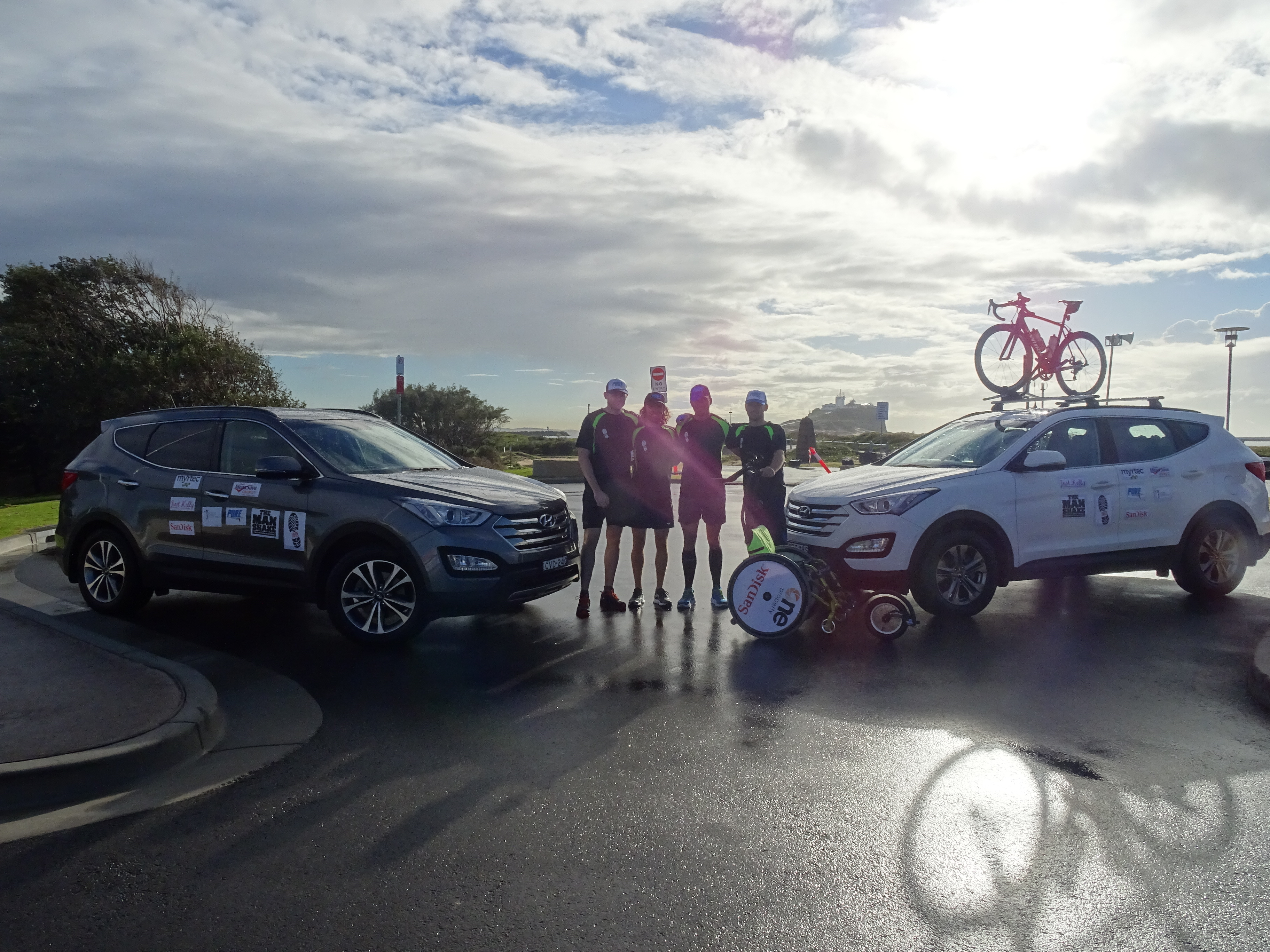 Walk to Save Our Sons | Newcastle - Sydney - Canberra
You can follow the 48-hour run on Facebook, Twitter & Instagram or view the gallery here.
Run Reid has officially kicked off the Walk to Save Our Sons, starting their 350km journey this morning at 8am from Nobbys Beach, Newcastle, finishing their journey at Save Our Sons Headquarters in Sydney.
The Walk to Save Our Sons aims to raise money and awareness for Duchenne Muscular Dystrophy (DMD), a fatal condition that mostly targets boys. DMD is characterised by an aggressive muscle degeneration that leads to the inability to walk and eventually death.
The Run Reid team is pushing an empty wheelchair on their fundraising run, to symbolise the loss of life caused by Duchenne Muscular Dystrophy.
DMD is the number one genetic killer of young boys in the world.
On Friday, 1 May 2015, the Run Reid team will reach Sydney and will pass off their wheelchair to Elie Eid, father and founder of charity Save Our Sons.
Elie will then commence the second leg of the Walk to Save Our Sons, a 320km from Save Our Sons Headquarters in Sydney to Parliament House in Canberra, pushing his 10-year-old son, Emilio in the wheelchair.
Run Reid was created by local businessman and runner James Reid, in order to raise money through physically challenging running events.
James says that ordinary people can do extraordinary things and at the same time make a difference in the lives of others.
"Forming Run Reid was the first step in raising funds and awareness for charities in Australia and via our inaugural event Walk to Save Our Sons we hope help Elie in his battle to find a cure for DMD," James said.
Elie was not prepared to accept the fate of his son without campaigning to raise awareness. He founded the registered charity, Save Our Sons in 2008, and with the help of his team Elie has already raised $3.5 million to help fund clinical trials in Australia, the UK and USA that allows research into finding a cure for DMD. His goal is to raise another $3.5 million within the next two years to potentially bring a trial to Australia or allow Australian kids to take part in trials overseas.
Elie hasn't told Emilio that at age 10, he has potentially lived half his life. But every step of the way on this walk, Elie is making a statement. No matter how hard you think this walk is, it is nothing compared to what the families, the parents and these kids go through with DMD.
"The wheelchair symbolises the harsh reality that families like mine face," Elie said. "The wheelchair is where children with DMD end up and it is all we as parents are left with when our children suffering this fatal condition pass away at a young age."
"We are presenting the Government with documentation on scientific trials which Save Our Sons is currently helping fund, which will potentially result in a treatment that could halt this cruel and fatal condition."
You can follow the 48-hour run on Facebook, Twitter & Instagram or view the gallery here.